Timing Belt Profiles & Pitches
Timing belt pitch refers to the center-to-center distance between the center of one tooth on a pulley to the center of the adjacent tooth. The timing belt tooth profile describes the shape of the tooth that is designed specifically for the type of application on which the timing belt pulley will be used. The application dictates the precision of registration needed, torque carrying capabilities, anti-ratcheting characteristics, and also quietness of the drive system. This timing belt tooth geometry is often a patented feature of a specific timing belt manufacturer. These timing belt tooth profiles are frequently marketed as being exclusive to one timing belt manufacturer. However, competition and market forces dictate that customers don't like to be forced into having only one choice.
Pfeifer Industries has identified the most common timing belt tooth profiles available today. We have also made available a cross reference guide that shows the interchangeability among the various timing belt manufacturers for the various timing belt profiles and pitches.
The chart below identifies the popular timing belt tooth profiles and pitches along with their related dimensions for belt height and also tooth depth.
Click here to see more information on Timing Belt Tooth Profiles and Pitches.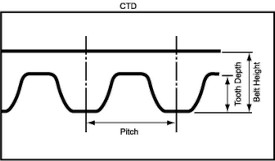 (CTD) ContiTech - Conti Torque Drive

---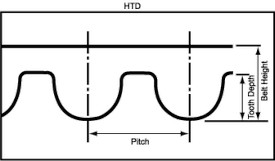 (HTD) High Torque Drive
---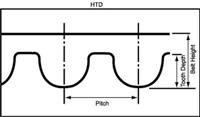 (PGGT) Gates - PowerGrip GT
---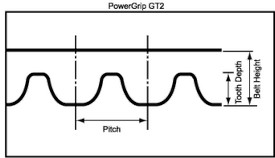 (PGGT2) Gates - PowerGrip GT2
---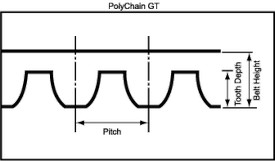 (PCGT) Gates - PolyChain GT
---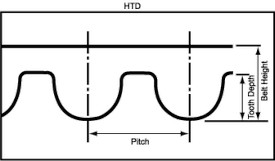 (PCGT HTD) Gates - PolyChain GT HTD
---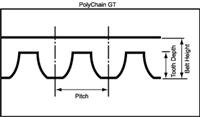 (PCGT2) Gates - PolyChain GT2
---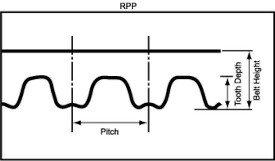 (RPP) Carlisle - Reinforced Parabolic Profile
---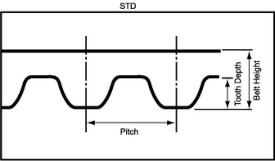 (STD) Super Torque Drive